Restaurants & Bars
From authentic Mexican cuisine and infused tequilas, to the finest Italian cuisine this side of the Atlantic Ocean, El Dorado Seaside Palms Riviera Maya offers a wonderful variety of opportunities to open your mind and expand your palate at the hands of our award-winning chefs.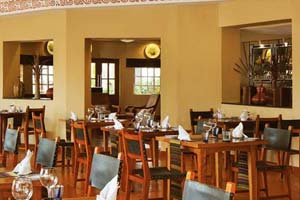 LA CARRETA
Authentic Mexican Cuisine
If you're looking for authentic Mexican cuisine, look no further than La Carreta. Every dish is filled with flavors and freshness you won't find outside of Riviera Maya.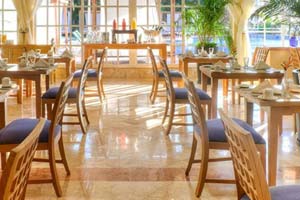 Arrecifes
International Cuisine
Dine in casual elegance. Arrecifes pulls in the best cuisine from around the world, offering an eclectic variety of dishes that are sure to please every palate.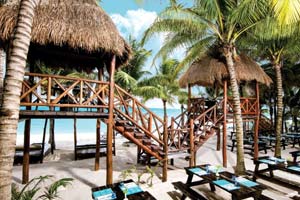 Beach Barbeque
BBQ
This is casual beach dining at its best. Enjoy the fan favorite fare of hamburgers, hot dogs, grilled chicken and shrimp kebabs, among other specialties, while taking in the spectacular ocean views.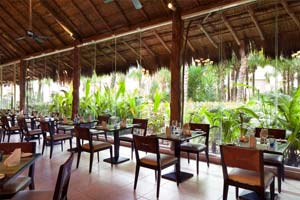 CULINARIUM
Latin Fusion Cuisine
Culinarium provides a unique dining experience, bringing the magic of outdoor dining indoors in a beautiful tropical garden setting. The beauty of the Caribbean comes to life right before your eyes, while you enjoy the delicious Latin flavors and an unmatched Margarita menu.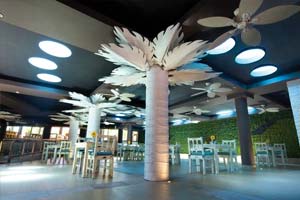 DRIFTWOOD GOURMET
Ocean Front Restaurant
Lunch is served right next to the main pool. As convenient as it delicious, you'll be treated to mouthwatering sandwiches, vegetarian offerings, salads, fresh paella and freshly grilled hamburgers. Live music makes this one of the most popular spots for lunch.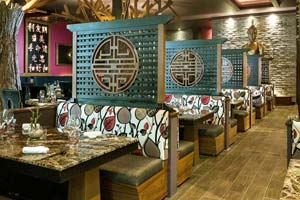 KLAY TALAY
Oriental cuisine
Spoon draws its inspiration from all corners of the globe, and delivers a world-class experience every time. An open kitchen concept complete with interactive stations makes it possible for guests to be engaged as they watch international cuisine and flavors come together right before their eyes.
Hours: 6:30 am - 10:30 pm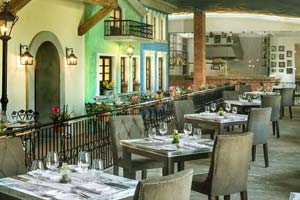 Mia Casa
Contemporary Italian
Romance is served at Mia Casa. Designed to mimic a typical Italian village, here you'll enjoy an intimate dining atmosphere where you'll get a taste of some of our Italian favorites.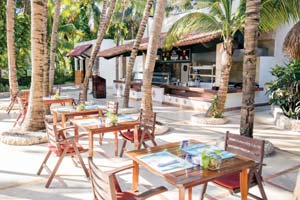 LA SANDWICHERIE
International Gourmet Snacks
We've turned daytime casual dining into an art form. Enjoy a casual meal in this open air restaurant from wood-fired oven pizzas served to order, to a selection of Angus burgers, delicious burritos, and other amazing quick meals.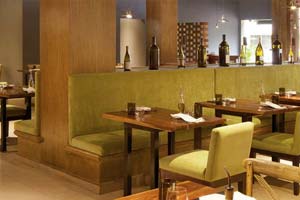 GOURMET PUB
World Cuisine
This isn't just a bar. This is a Gourmet Pub complete with international favorites from Shepherd´s pie, fish and chips to mouthwatering beef meatballs, and delicious rice pudding.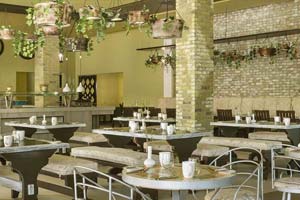 SEASIDE MARKET
International Cuisine
Breakfast is served with a side of beautiful scenery. Enjoy an International food display full of breakfast favorites, as well as salads, freshly baked bread, and pastries that will take you to a memorable culinary journey.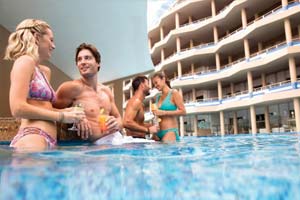 SWIM-UP OCEANFRONT BAR
Serving a wide array of virgin cocktails, fresh fruit infused water, ice-cold beers and full Gourmet Inclusive®premium drinks. Craving a drink while lounging? Don't lift a finger – our poolside waiters are ready to serve your favorite drink. Located at the main pool in front of the beach.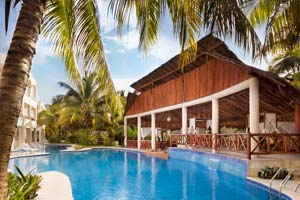 GAVIOTAS
SWIM-UP BAR
Located at the heart of the resort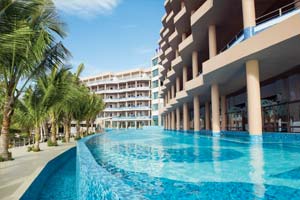 COLIBRI
SWIM-UP BAR
Swim-up pool bar offering a wide variety of cocktails and drinks. Located next to Villa 35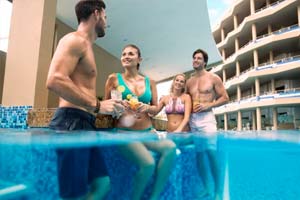 ARRECIFES
SWIM-UP BAR
Located in the main pool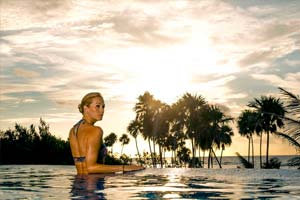 GARCITAS
SWIM-UP BAR
Swim-up pool bar offering a wide variety of cocktails and drinks. Located next to Villa 35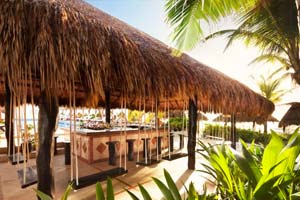 COTORROS
BAR
Nothing better than ocean breezes from our romantic double swings and tropical drinks from this bar situated in front of the relaxing pool.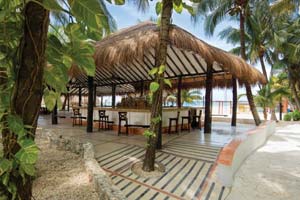 GUACAMAYAS
BAR
This is the place to quench your thirst with authentic Mexican favorites. Enjoy a wide selection of local beers, cheladas, exotic cocktails, and our specialty, aged tequilas. Live music will keep you moving while you sip on your favorite drinks.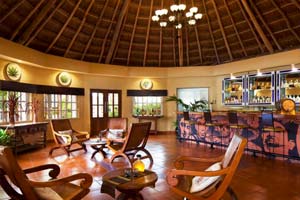 LA CANTINA
BAR
You can't come to Mexico without trying Tequila – and La Cantina has a wide selection to choose from. Located inside La Carreta restaurant, enjoy a variety of Tequila cocktails, as well as an assortment of beer and wine.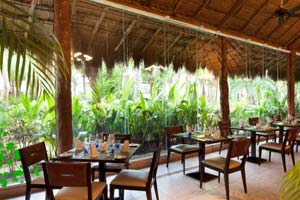 MARGARITAS
The name says it all. Situated inside the Culinarium restaurant, you'll be treated to a great selection of margaritas, and other cocktails while you also drink in the tropical views.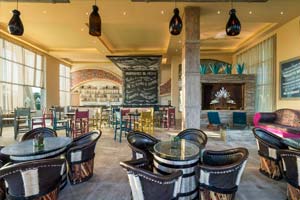 MEZCALITO
The style is rustic. The space is inviting. The drink is Mezcal.
Named after one of Mexico's favorite liquors, Mezcalito is located in the main lobby, and welcomes you with an assortment of high-quality liquors, as well as virgin cocktails.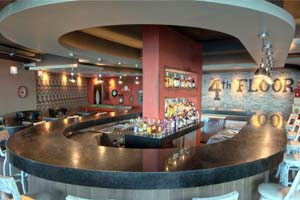 KANALOA
BAR
With a laid-back atmosphere, here guests can gaze out the window and view the sparkling stars on the Caribbean Sea while enjoying your favorite drink or cocktail.